Sophia Kühn
Freelance artist
SHOWROOM: Roonstr. 37 – Herne, Germany – Dates by arrangement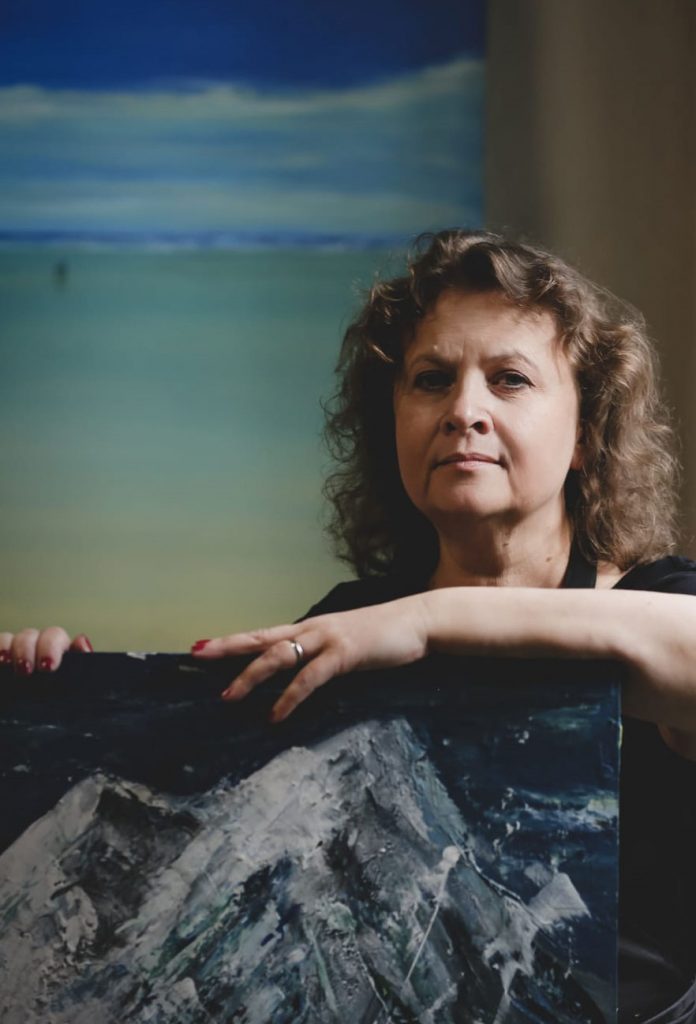 _____________________________
Sophia Kühn – landscape painter from Herne (Germany) and Biscarrosse (France), born in Pyskowice (Poland)
The self-taught artist found her way into the world of art in a truly unique manner. At the age of 19, she acquired her first easel and oil paints, thereby laying the foundation for her creative journey. After a period working as a graphic designer and in marketing, she rekindled her passion for painting about 5 years ago – a rediscovery that captured her heart instantly.
Her ardor for painting was unmistakable from the outset. Each brushstroke and color blend revealed her intuitive approach to art. However, she didn't confine herself to traditional methods alone. Over time, she began to digitally enhance her works, discovering an innovative way to further express her creativity. Her inspiration comes from both nature and her innermost feelings. She paints intuitively and with full passion.
The artist looks ahead with eager anticipation. Her story serves as a reminder that art can surprise us time and again, even after years of absence. Her rich experience in graphic design and marketing informs her art, lending her works a unique perspective. It will be intriguing to see what captivating pieces she will create next – a fusion of traditional painting and contemporary digital art.
Her works are available to everyone at many exhibitions, in her showroom in Herne and online as NFT. Some of the paintings are privately owned.
Member of the Herner Künstlerbund
---
Exhibitions
2024 Kunstpunkt – Herne – Solo exhibition – Germany
12.23 – 01.24 Herner Künstlerbund – collective exhibition – Herne – Germany
06.09 – 10.09.2023 Artbox.Project Zürich 5.0 – collective exhibition – Zürich – Switzerland
25.08 – 27.08.2023 888 Inner Circle X Mrs Toolip – collective exhibition – Barcelona – Spain
01.08 – 31.08.2023 KunstKlangGenuss – Solo Exhibition – Bayer. Staatsbad Bad Reichenhall – Germany
26.05 – 07.06.2023 Envie de Mer – Solo exhibition – Biscarrosse – France
19.05.2023 The bobiennale 2023 – Open Studio – Introduction to the world of NFTs / Digital Certificates – Herne – Germany
09.05 – 10.05.2023 NFT Tallinn – collective exhibition – Tallinn – Estonia
05.05.2023 A New Way to See Dreams – collective exhibition – Barcelona – Spain
12.04 – 14.04.2023 NFT.NYC – Collective Exhibition – New York – United States
27.02 – 26.03.2023 KAZoptikum – Solo exhibition – Herne – Germany
11.02 – 26.03.2023 Tracks 3 – Collective exhibition – Herne – Germany
2022 Collective exhibition – Schollbrockhaus Galerie Herne – Germany
2022 Kreativ.Quartier Wanne – Landscape painting and NFTs – Solo exhibition – Herne – Germany
2022 Remain visible – collective exhibition – Flottmannhallen Herne – Germany
2021 Wildrose Herne – Solo Exhibition – Germany
2021 Bürgerhaus-Galerie Castrop-Rauxel – Solo exhibition – Germany
2020/2021 Haranni Clinic Herne – Solo Exhibition – Germany
2020 Collective exhibition – Schollbrockhaus Galerie Herne – Germany
2019 Restaurant Fontäne – Solo Exhibition – Herne – Germany
2019 Electoral Art, Autumn Days – Collective Exhibition – Recklinghausen – Germany
2019 Affenhack – Solo exhibition – Herne – Germany
2019 Kanzlei Vielhauer – Solo exhibition – Herne – Germany
Online:
A New Way to See Dreams
Women In Tech 2023 Showcase
4th STAMINA Exhibition by @artsiesco
NFT Painters Gallery Fer Curates
Oncyber.io 6529 Museum District
Spatial.io ArtSophiaKuehn
Oncyber.io ArtSophiaKuehn
More information: