Sophia Kühn & Petra Stephens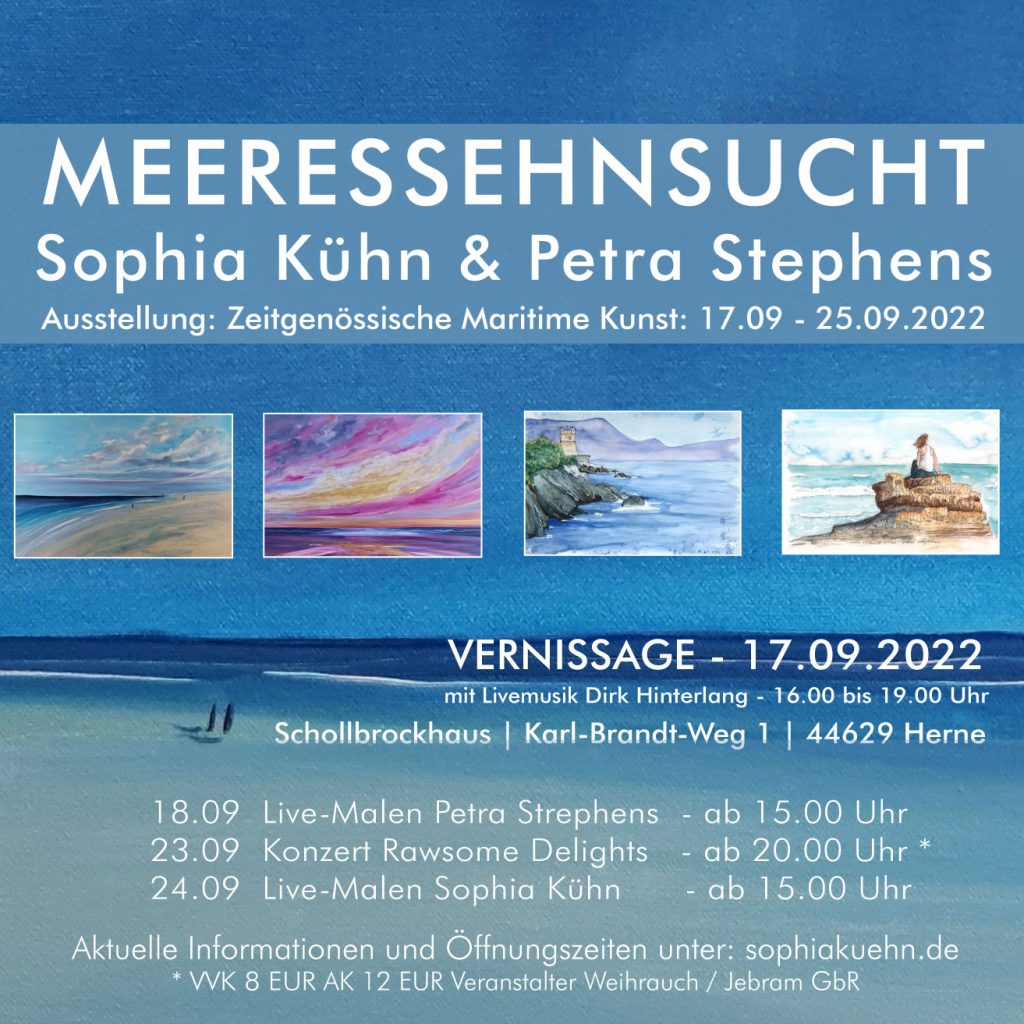 VERNISSAGE – 17.09.2022
with live music Dirk Hinterlang – 16.00 to 19.00 h
18.09 Live painting Petra Strephens – from 15.00 h
23.09 Concert Rawsome Delights – from 20.00 *
24.09 Live painting Sophia Kühn – from 15.00 hrs
Contemporary Maritime Art in Herne.
Maritime art is an art genre that is extremely diverse and that had its heyday in the 17th century to the 19th century. It deserves a closer look.
Here is an excerpt from 2 artists who have dedicated themselves to this theme.
Sophia Kühn
Her art is a process, observing the sea, the clouds, the people on the coast. There you can feel the feelings extremely. Sometimes it is loneliness, sadness, sometimes weightlessness, joy. She likes to sit for hours and watch the action, how the clouds fly, how the sea changes, this color spectacle, low tide, high tide, surfers, playing children, lonely people.
The images tell stories with movement, light, color nuances and instinct. The vivid colors give the images a tone of modernity. The images move between reality and abstraction. When painting itself, she processes her feelings, sometimes melancholic, depressive, sometimes full of color and life. Always inspired by the Atlantic coast.
Petra Stephens
She grew up by and with the sea and learned to love it. Returning home after 30 years, the coastal landscapes still have a wonderfully calming effect on her.
Her works are meditations of water, wind, rock and atmosphere in specific places she has visited. Her influences come from urban sketchers, plein air painting, and even the Old Masters. Her graphic design studies have also shaped her drawing style, hence the fineliner and only secondarily the watercolors. She collects impressions with drawings and A`la Prima studies, which in the end let her make an oil painting in contemporary realism. The exhibition provides an insight into their working methods.
Opening hours:
The artists will be on site most days.
17.09.2022 – Saturday – 16.00 to 19.00 – Vernissage
09/18/2022 – Sunday – 2pm to 6pm
– 3pm – Live Painting Petra Strephens
20.09.2022 – Tuesday – 14.00 – 18.00
21.09.2022 – Wednesday – 14.00 – 18.00
22.09.2022 – Thursday – 14.00 – 18.00
23.09.2022 – Friday – 14.00 – 18.00
– From 19:30 admission -concert from 20.00 – Rawsome Delights – admission*.
24.09.2022 – Saturday – 14.00 – 18.00
– 15.00 – Live painting – Sophia Kühn
25.09.2022 – Sunday – 14.00 – 18.00
and by appointment: art@sophiakuehn.de
Address:
Schollbrockhaus | Karl-Brandt-Weg 1 | 44629 Herne
*VVK 8 EUR AK 12 EUR Organizer Weihrauch / Jebram GbR